Plumpton Bridge Across Leven Estuary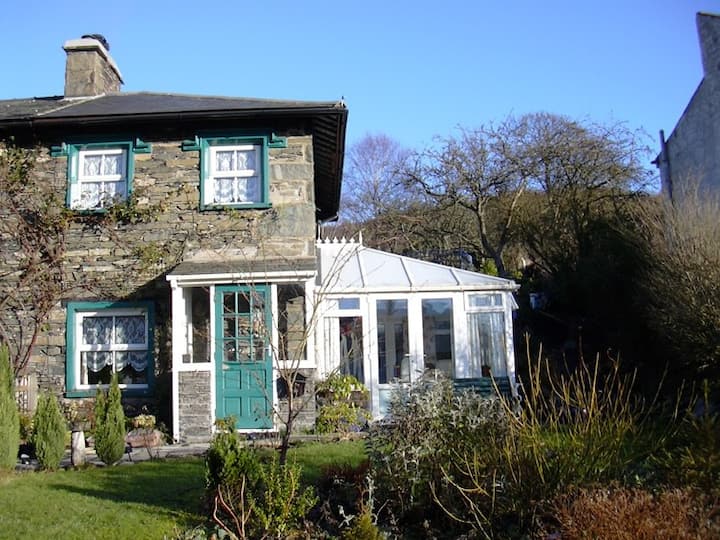 Glorious weather predicted just after the lockdown preventing travel from Wales to England had been lifted so we decided on a short break to the Lakes. Our initial plans were to stay at Rydal Hall camping in a pod, however we then discovered that campsites were still closed so we needed to make a last minute plan. Very happy to find a cottage to rent in Backbarrow through AirBnb for a very reasonable rate. Initially it seemed as though we were going to be pipped by another customer who had enquired half an hour before us(!) but they dropped out and so on Tuesday evening we discovered we were all booked in for Wednesday.
See a link to a history of the mill at Backbarrow cumbria-industries. looked up washing in the blue and apparently involved adding a slight blue tint to the washing agent used which would counter the yellowing of older fabrics to make then look white again! Great to go somewhere new and learn something totally new.
Day 1 Cycle – Backbarrow to Hawkshead
We woke up to a hard frost and so had a relaxing start whilst we waited for it to warm up. Our route today took us out the front door and past the old mill at Backbarrow which has now been converted into a hotel. We had a short but steep climb out of the valley – took the time to discuss the merits of e-bikes, and whether we should have got them instead of our new road bikes which we have yet to take out! We then had a lovely cycle through rolling pastureland before entering into the woods and our main climb of the morning. The sight of bluebells were a welcome distraction from the uphill effort. A good road from the summit made the ride down fun with extensive views across to Esthwaite Water, and the mountains beyond. At the head of the Lake we stopped off for a coffee at Hawkshead. A charming village which I am sure gets very busy in the high season so nice to enjoy it on a quiet day.
Our route back took us around the East shore of Esthwaite Water. We stopped off in a small woodland for our picnic lunch watching guys on their rowing boats fishing – or trying to. The ride back was into the wind which made it feel harder and colder. We were glad to have packed some additional layers. We enjoyed the cycling on quiet roads through beautiful farmland full of young lambs frolicking in the sunshine. We caught a glimpse of Lake Windemere, but access on this side of the lake is fairly limited due to the presence of a lot of large private estates. When we got to Backbarrow we spent some time at the river frontage taking photos and reading about the history of the Mill.
After a refreshing cup of tea back at the cottage as it was such a beautiful afternoon we decided to drive to Ulverston (about 20min away) and go for a walk along the estuary at Canal Foot to Plumpton where the railway viaduct crosses the River Leven. Canal Foot is at the end of a canal connecting Ulverston to Morecambe Bay – now closed. There is a lot of industrial history in this area which is interesting to read about on the various info boards / internet.The tide was out and so we could walk along the mud flats to Plumpton before heading back on a footpath through the fields and some woodland. Very happy that we took the time to come and enjoy this spot. Back home for a G&T, BBQ and planning of tomorrows cycle. Click play below to see a compilation of our photos